Join in the celebration along with other Washington State-based Vocational Rehabilitation customers, businesses and employers, VR affiliated programs and educational institutions, and VR professionals.
The video program showcases personal VR stories as told by Vocational Rehabilitation customers, as well as remarks by past WA DVR Director Robert Hines, Department of Services for the Blind Acting Director Michael MacKillop, and past WA DVR Director and former RSA Commissioner Lynnae Ruttledge. Employers that advocate and support VR, and VR professionals, share their passion and experiences.
Re-watch, or watch for the first time, the celebration program!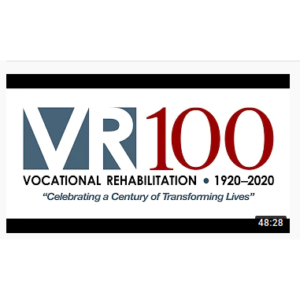 June 2, 2020, was the day Washington State DVR commemorated, along with its core VR partners, the 100th anniversary of the public Vocational Rehabilitation program in the U.S. From June-December 2020, WA DVR celebrated in various ways, including via social media and news articles.